In contrast to predictions of Sa Pa District People's Committee, on holiday September 2th, there are many tourists visiting this romantic place.
"From the evening of September 1th so far, almost all hotels, guest houses in Sa Pa are booked by the travel and by the self-organizing delegations from a few weeks ago, so room rates are higher than before holiday September 2th. Price of guest rooms is quickly rising, from 250,000 VND to 400,000 to 500,000 VND / room … ", Mr Nguyen Manh Tuong, officials Tourist Information Centre of Lao Cai headquartered in Sa Pa town said to reporter.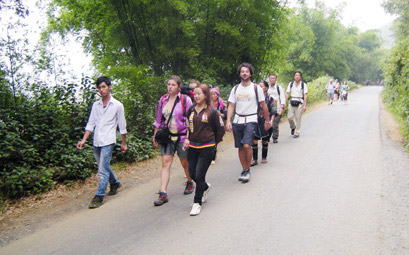 A lot of international tourists visit Muong Hoa valley and ancient rocks.
On this occasion in Sa Pa the weather is very beautiful, calm sunny days, sometimes a little rain, dusk and early morning with cold weather which is very suitable for people traveling. So the tourist sites such as Thac Bac, Ham Rong mountain, rocky neck almost Thao, a cultural village in Ta Van Giay, terraces along streams in the area of Muong Hoa, the village of Ta Phin brocade…always attract a lot of visitors to enjoy and explore, especially tourist in the city and European tourists.
Ms. Nguyen Thanh, booking clerk ecological tourism Ham Rong Mountain for more reporters, on September 2th, more than 3,000 people bought tickets to visit the Ham Rong Mountain, until to September 3th there are more visitors.
Road travel from town center to Lao Chai, Ta Van, Hau Thao, Ban Ho, Thanh Kim, Nam Cang … always crowded with many types of large and small tourism cars taking visitors to visit the ancient rocks , terraces, bridges, clouds … However, there are a large number of foreign visitors who choose walking tour exploring the valley of Muong Hoa stream or waterfall Cat Cat, because the way of Sa Pa was recently selected as one of seven famous walking routes of the world by a British travel magazine.
It is especially that in these days in Sa Pa town, the motorcycle service for rent does not meet the needs of tourists, although the rental price of 150,000 VND/ day and the whole town up to 200 to 300 motorcycles for rent.